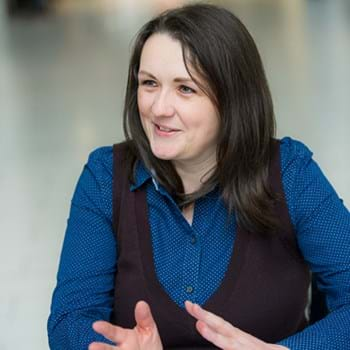 Sarah
Knowles
Sarah is a health services researcher specialising in mental health, implementation science, coproduction and codesign.
Challenge power, elevate emotion: how to approach research as a data feminist
This talk is delivered in partnership with patient research partner Lynn Laidlaw. 

Data Feminism is an approach to understanding how power plays out in the data we collect, use, and report. Whose perspective is privileged, and whose is ignored? How is data used to replicate exclusion or prejudice? Whose data is it anyway?  It's also a set of principles for trying to think and do better with data - principles such as "examine power", "elevate emotion", and "make labour visible".
As a health researcher (Sarah) and a patient research partner (Lynn), we've experienced these challenges first hand. We'll talk through some of our own examples, illustrating not only how these principles chime with projects about health data, but how they can and should help us reflect on how we ourselves do research - who we involve, and how we work together. For anyone exploring community engagement and co-design, we'll encourage you to consider the power and reciprocity involved. We'll ask the audience: who puts the user in the centre of user-centred research? Who really holds the power when they're "put" somewhere by someone else? In health especially, are patients at the table, or just on the menu?