Our highlights from Codegarden 2023: Celebrating collaboration, sustainability and community
Reflecting on last week's Codegarden conference in Odense, Denmark, where we joined the friendly Umbraco community to celebrate collaboration, accessibility, sustainability and the exciting future of the CMS.
Last week some of our team attended Umbraco's annual Codegarden conference, and it was certainly one to remember. This year's Nexer cohort included both Codegarden veterans and new attendees, and we all felt instantly welcomed and part of the community. The Umbraco team created a welcoming and inclusive atmosphere, with unicorn balloons, cool swag, hammerschlagen, DJs, facepaint and glitter, we had the best time.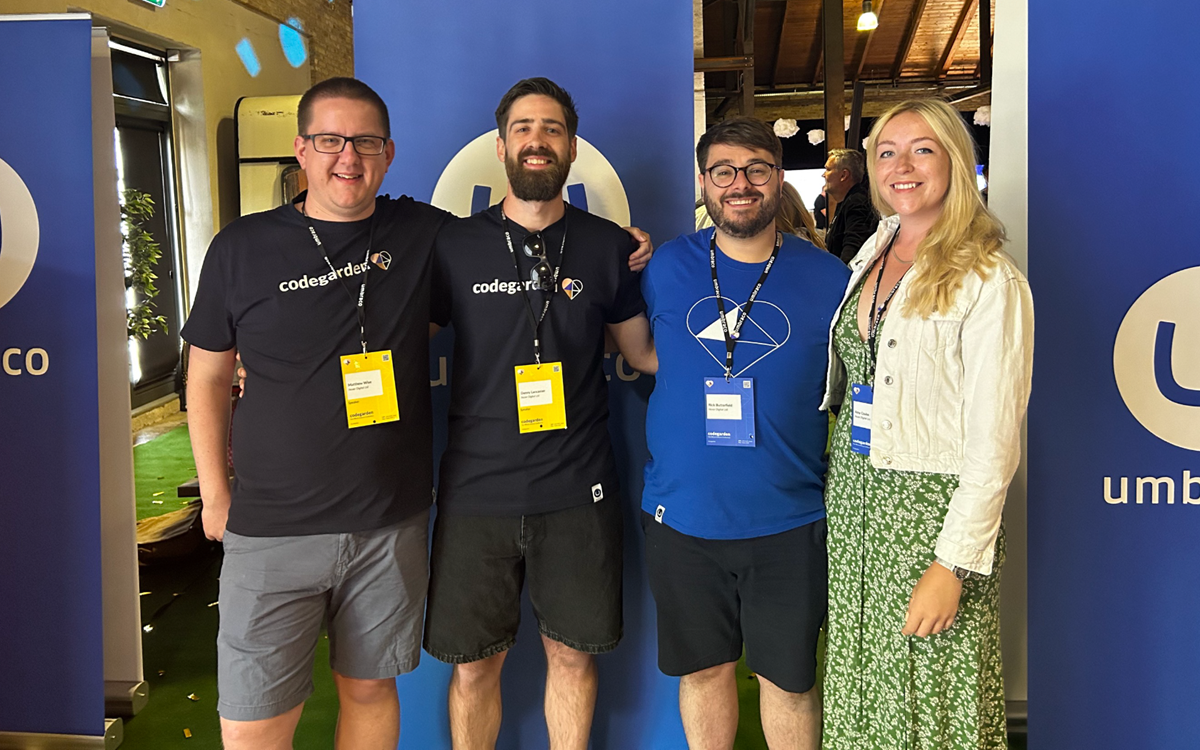 The week included plenty of highlights; Celebrating our new Umbraco Platinum partnership, meeting other members of the newly formed Sustainability Community team, renewed and new MVP awards in our team and being nominated for 'Best Green Solution' in the Umbraco Awards.  
Some of our key highlights and takeaways include:


Emphasis on partnership and collaboration

One of the most exciting things about the conference was meeting others in the community that we collaborate with on a regular basis. Everyone is so friendly, we had thought-provoking conversations, learned a lot from speakers and shared our experiences with others too.  
 
Our team talked about accessibility and building inclusive digital services, and feature flags within the CMS. We value working in the open, so we're pleased to announce that we are now an Umbraco platinum partner. This new level of partnership signifies a deeper relationship with Umbraco, and brings an opportunity to further contribute to the community.  
 
We also celebrated the recognition and renewal of several MVPs (Most Valuable People) in our team; Rachel Breeze, Danny Lancaster and Matthew Wise all had their status renewed, and Rick Butterfield picked up his well-earned MVP status this year for his consistent contribution.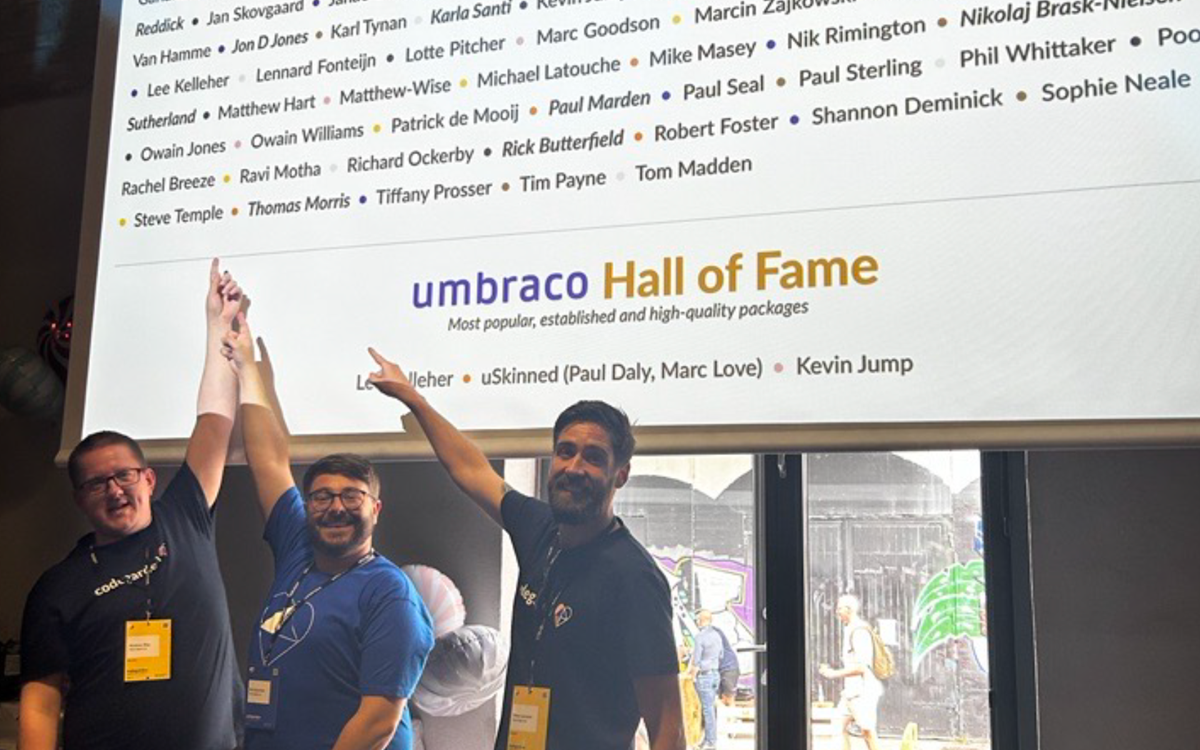 Sustainability

Umbraco's commitment to sustainability took centre stage at Codegarden 2023, which we're really chuffed about. From learning about Umbraco's carbon neutrality plans and workshops focussing on development best practice, it was clear to see Umbraco's dedication to creating a greener future.  
 
Umbraco launched the sustainability community team earlier this year to shape the direction and trajectory of their sustainability efforts. Amy Czuba and Rick Butterfield from our team were selected to be part of the community team and met with other members in person for the first time to discuss Umbraco's sustainability strategy, both from a CMS perspective, community and user level too.

Umbraco awards
Seeing the breadth of impact that Umbraco makes to end users, through the creativity and dedication of the community was brilliant. We were thrilled to celebrate our nomination for Best Green Solution, for our work with NCC Group which resulted in 50% carbon reduction on their global digital estate. To be recognised and nominated amongst other brilliant projects is reason enough to be proud. 
Adapting to industry trends
Generative AI models such as ChatGPT have captured the industry's attention in recent months. The prospect of leveraging AI to enhance Umbraco's capabilities is exciting. However, there was also a collective awareness of the need to ensure that AI integration is sustainable, accessible, and equitable. Discussions revolved around finding ways to make AI technology accessible to a broader user base while addressing potential biases and ethical considerations. 
The evolving platform  
Technical Advancements

There are some exciting technical advancements to come. Umbraco Cloud, the platform's cloud-based solution, will soon introduce new features including regional control, Continuous Integration/Continuous Deployment (CI/CD) and improved load balancing capabilities. Umbraco 12 is just around the corner, launching on June 29th, and while it is not an LTS version, Umbraco 12 promises to enrich the user experience and empower developers further. 
Support, Training, and Documentation

Umbraco's dedication to customer satisfaction was evident in their commitment to expanding their support offerings to enhance their already impressive NPS score of 80/100. The launch of the new training platform, combining on-demand and live courses, now makes training more accessible to those around the globe. Additionally, the new documentation aims to provide a more seamless and efficient experience when searching for information.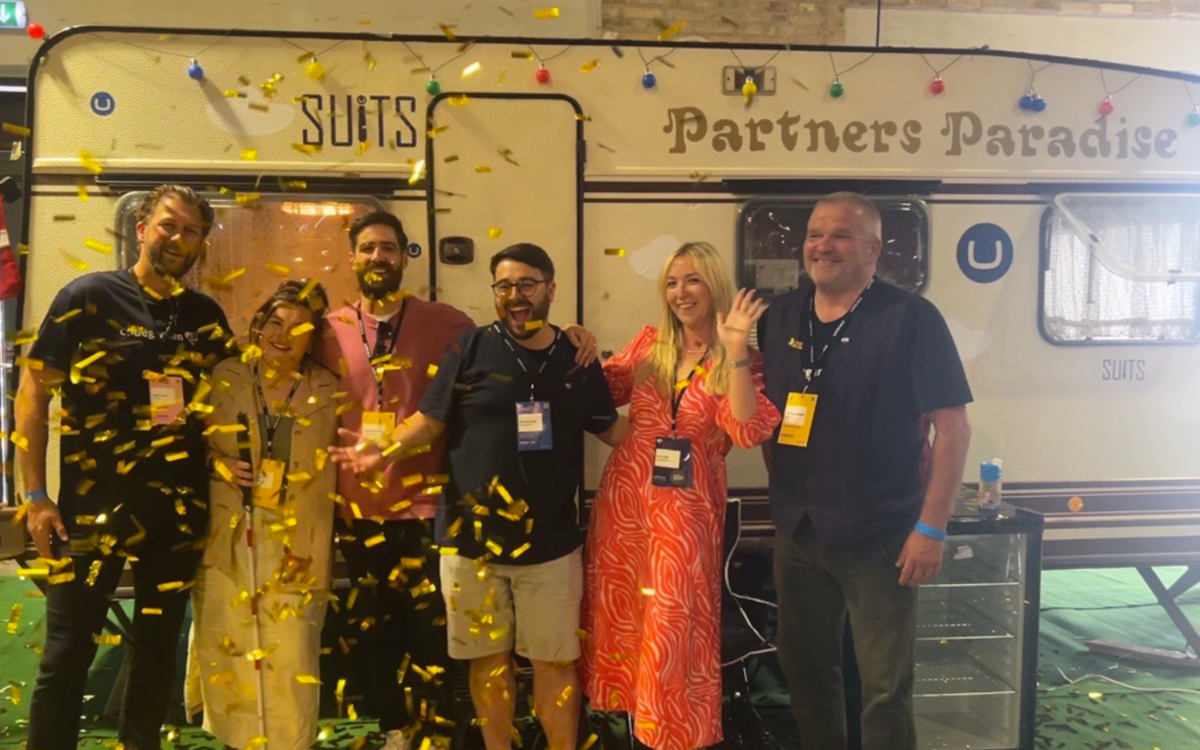 Codegarden 2023 was not just a conference, it was a celebration of the human connections that drive the Umbraco ecosystem towards a common goal: to continue developing Umbraco for clients and users so that they can enjoy seamless, accessible and sustainable experiences. Until next year!