Retailers must prioritise accessibility, on Purple Tuesday and beyond

Amy Czuba explores why retailers should make accessibility a priority for their business all year round
Yesterday was Purple Tuesday, a global initiative which highlights the customer experience of people with disabilities and their families. Purple Tuesday raises awareness about accessibility, and it can also present an excellent opportunity for businesses to commit to improving their practices.

We did want to acknowledge that some very valid criticism of days like Purple Tuesday comes from some businesses using it as an opportunity to create content for social media but without any meaningful change (often with the posts lacking accessibility features like alt text...). With these kinds of events, we usually take the view that they're a good chance to raise awareness, but it's important to note that year-round support and inclusion should still be our priority. 

For retailers, the benefits of prioritising accessibility are numerous. Firstly, and of course, most importantly, it's just the right thing to do. All users deserve to be able to properly access the benefits of the web.

Secondly, it makes good business sense. It's estimated that globally, the spending power of disabled households (often referred to in the UK as the Purple Pound) equates to $8 trillion, increasing by 14% per annum. It's also estimated that eCommerce businesses losing a staggering $16.8 billion in sales due to inaccessible websites. Creating an accessible experience for users presents a huge opportunity for retailers to optimise their products and services for everyone, offering the exciting potential to access a huge, untapped market.  
A legislative call to action 
There are also imminent legislative changes that will impact all organisations selling to customers in the European Union.  

In 2025, the European Accessibility Act (EAA) comes into effect. This legislation will force organisations to meet specific accessibility criteria for all products and services including websites, mobile apps, self-checkouts, advertising and marketing.  Businesses that don't comply risk large fines, meaning it's important to act as soon as possible.  

And it's notable that many still have a long way to go. In just the past couple of weeks, the BBC has shared a piece focusing on the widespread issue of inaccessible touchscreen card readers, and their impact on users.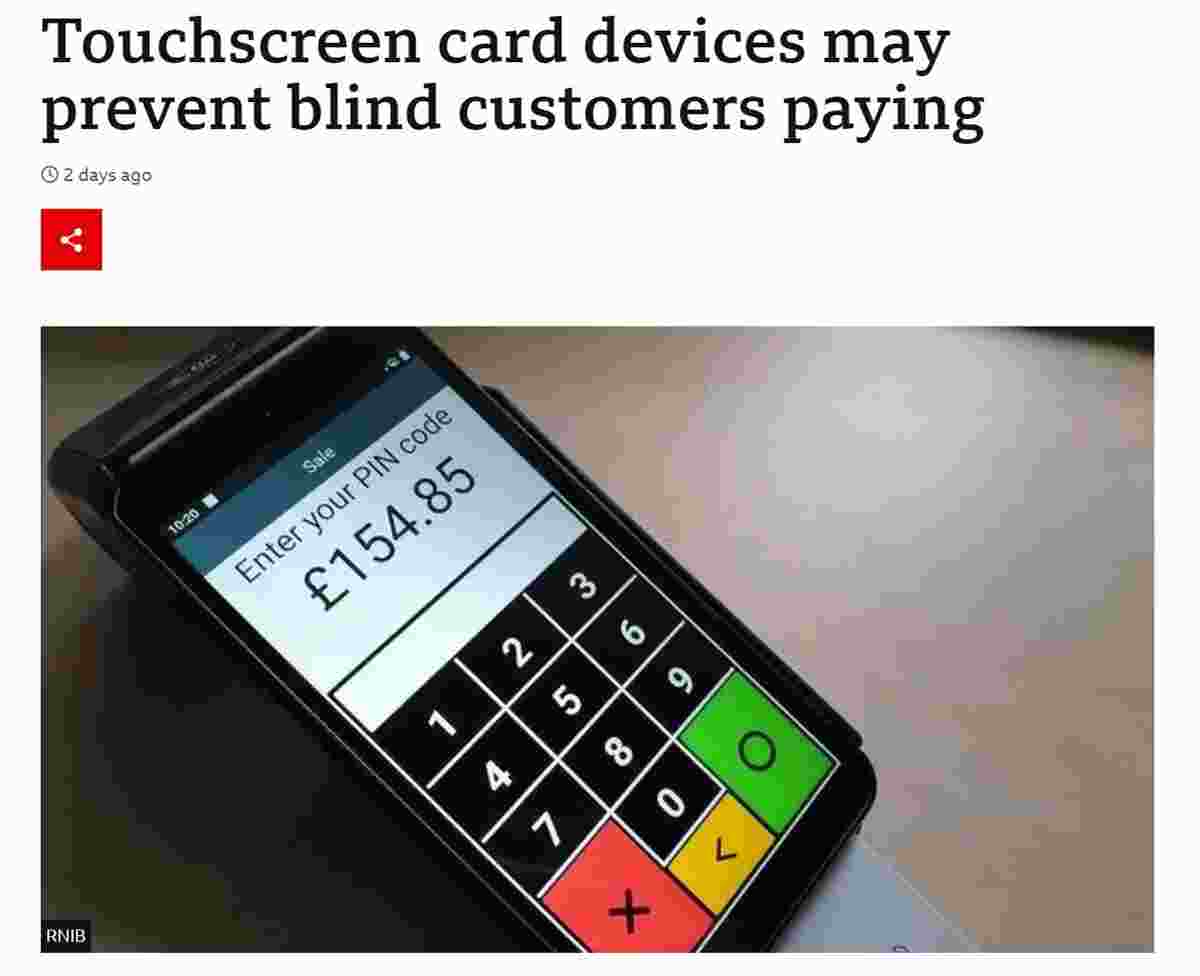 Addressing barriers to access 

International accessibility standards, WCAG (Web Content Accessibility Guidelines), updated last month to version 2.2 (you can read our thoughts on the updates here), offer a set of standards for industry best practice. Reputable retailers and their digital and content teams should be well-versed in embedding these standards throughout their ways of working.  These guidelines are also opportunities to embrace not only compliance but a more inclusive and accessible culture within their organisation. And taking the first steps might be easier than you think... 
 
To begin their journey towards improved accessibility, businesses may want to start by addressing the most prevalent barriers to access. According to WebAIM's annual Million Report, a comprehensive analysis of the top one million homepages globally in 2023, the following most common accessibility issues were identified: 
Low colour contrast text 83.6% 
Missing alternative text for images 58.2% 
Empty links 50.1% 
Missing form input labels 45.9% 
Empty buttons 27.5% 
Missing document language 18.6% 
Resolving these issues is a good first step toward improving the accessibility of products and services and a great place to start for any organisation starting its journey. It's important though, to recognise that genuine accessibility goes beyond merely ticking boxes. These statistics alone don't convey the full impact for users. The best approach is to always involve a representative group of users in the design, development, and testing process.

In recent work with clients, we've helped organisations make tangible steps to improve their accessibility. In our work with Bupa, we helped the team identify barriers to access and increase accessibility awareness across the entire organisation.

We audited Bupa's digital estate, conducted inclusive usability testing, and delivered accessibility awareness sessions across the entire organisation. Our efforts resulted in a 25% increase in accessibility fixes. We embedded accessibility knowledge across teams and departments through role-based training, and a community of practice was established to champion accessibility.

Recently we've also collaborated with the Royal Botanic Garden Edinburgh to make their income generation flows more accessible, creating a better experience for customers and allowing the organisation to reach more users. These projects highlight some of the ways an accessible approach can yield positive results for organisations and businesses.

Accessibility is a continuous process and a commitment to improving and placing the needs of users at the centre of products and services. For retailers this is not just an opportunity; it's a responsibility, and a step toward a better future for everyone.