New horizons for the Nexer Digital Cambridge office
Nexer Digital said goodbye to the Wellcome Genome Campus in January 2020, looking forward to new horizons in the heart of Cambridge.
After three brilliant years in the BioData Innovation Centre (BIC) on the Wellcome Genome Campus, we are moving our Nexer Digital office to central Cambridge at the start of February 2020.
Good memories
Nexer had an amazing time on the campus, where we have made some lasting friendships.
Not only have we enjoyed exciting design opportunities with clients such as the Wellcome Sanger Institute, the European Bioinformatics Institute, and the Chan Zuckerberg Initiative, we were also proud to assist with the facilitation of the campus' first #BioDataHack in 2018.
We worked with the campus team to shape the two day hackathon, and also provided teams taking part with a human-centred approach to problem framing and solution design using a set of cards we created. it was great to see people using them and a number of our team provided advice and support for teams too. With challenges set by companies such as AstraZeneca, Microsoft, and ARM, it was a fantastic couple of days.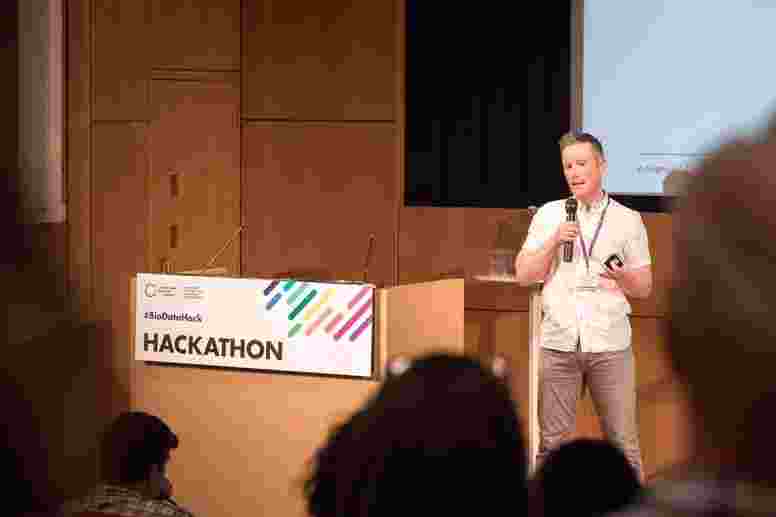 Francis Rowland addressing participants at the #BioHackDay opening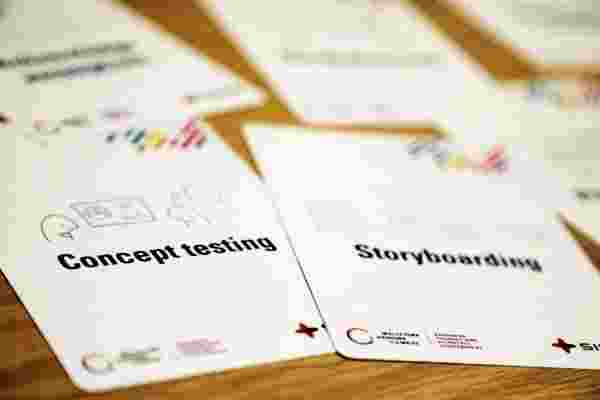 Some of the cards we made for the hackathon
We have covered more of our work and said a few words of thanks to the Biodata Innovation Centre (BIC) community on the following slideshow, which captures the highlights from our time there:
1. So long, and thanks for all the fish flapjacks and field trips, fika and feats.
Sigma's highlights as a BIC tenant February 2017 - January 2020
2. That time we did role play.
We worked with Cognitive Behavioural Therapy provider, Ieso Digital Health, to help them improve patient registration and on- boarding.
3. Why are you doing role play?.
It helped us to write more effective, human copy for the patient registration process. It's much easier to write like a human when you have to talk to a human* *a human who is role playing an online interface
4. Those (many) times we walked and talked…
It's been amazing to have the great outdoors at our toe-tips
5. That time* we went to the pub.
Sometimes those walks took us to the Red Lion * OK, it was more than once
6. That time we went on a field* trip.
We worked with Juddmonte Farms and spent time at their stud farm near Newmarket, understanding what grooms actually do. We spent time shadowing lab staff, to understand their work and their environment, and help design better data recording tools. * to an actual field
7. Why are field trips important?
Field trips help us to understand the context that people are working in, so that we can design with that in mind.
8. That time we designed and printed a fireplace.
Because it's not Christmas if you can't warm your feet by the fire And we were very proud of our Elizabeth's debut in the Christmas choir performance
9. That time we got the fundamentals right.
We've been working with mental health charity Mind for a while. We helped them to make campaigns and donations as good as they can be – so that people who want to contribute to Mind's work see through their donation to the end. No timeouts, strange error messages, or unnecessary steps.
10. That time we got new whiteboards.
And tested them with the team to make sure we could all reach the top
11. That time we hacked the hack…
We had a lot of fun working with Jo Mills and the team to clarify the challenges ahead of the Biodata Hack in 2019, and helped challenge partners prep their pitches. On the day, Francis gave hackers some top tips before they got stuck into their chosen challenge.
12. … and turned ourselves into a deck of cards We took design methods that we use in our work and turned them into a deck of cards so that hackers could apply to the challenges in their teams. It made it easier for us to help the teams, on the day, in our role as mentors. It was great to see people finding them so useful!
13. That time we followed the instructions.
Lego proved a useful team building exercise Though our interns got younger and younger…
14. That time we* had our fifteen minutes.
From our work with the BIC team on the hack, one of us even made it onto the screens on campus *Lou got a bit of a shock, seeing herself larger than life on screen at BIC reception
15. We are still Sigma
16. We still design services and digital products that help people live and work better. We have the same (Swedish) email addresses. We'll just be in Cambridge city, instead of on campus.
17. We'd love to stay in touch.
Visit us in our new office on East Road, or invite us back for a fika If you're interested in talking about how design thinking could help you, just get in touch and arrange a conversation. francis.rowland@nexergroup.com
Our next move
We will be taking residence in a newly refurbished space on East Road from 1st February. Although our work in the health and life sciences sector has grown substantially in recent years, we do have some city centre clients we're working a little more closely with now.
Also, as other parts of the global Nexer group expand their operations in the UK market, this gives us an opportunity to focus on those collaborations. We're looking forward to working in other sectors of value, inviting colleagues to work with us and nurturing some of the partnerships they're exploring in Cambridge.
New year, new start
So, here's to new beginnings. We're very pleased to be coming to the heart of Cambridge. Say hello to us when we're out and about at Cambridge networking events, talking about user centered approaches for inclusive product and service design.