Turning inclusive intentions into meaningful actions

Senior Business Administrator
As an organisation, we've been asking ourselves, 'How can we translate our inclusive intentions into meaningful actions?' Jen Kelly explores some of what we've been working on recently
Inclusion in the workplace has become a hot topic in recent years. And rightly so. But how do we make sure that those conversations, however progressive and well-meaning, translate into action? Action that will install real, sustainable change in the workplace and in the business world as a whole.

It's a question we ask ourselves here at Nexer Digital regularly. How do we translate our intention of having a fully inclusive and diverse team into impact and action in real terms? As a human-centred company that designs and develops products to make people's lives better, we do some things very well. We also know we can and should always do better, and as we've grown, we've kept that question at the forefront of everything we do.
This week we had our quarterly team meeting, which presented a good opportunity to reflect as a team on our recent progress and put our heads together to share some ideas for the future too. We also enjoyed an excellent talk from neurodiversity consultant Rachel Morgan-Trimmer, which offered plenty to reflect on (and which we'll discuss further down this piece). For now, here's what we've been working on.
Employee Resource Groups (ERGs)
We now have 2 ERGs at Nexer Digital:
Cultural And Religious Inclusion at Nexer Group, or CARING. 
Access at Nexer (Disability Inclusion)
These employee groups are new for us and offer a way for our team to get together and discuss how we can ensure Nexer is a more inclusive and accessible workplace for all. It's early days for both groups, but they've already run workshops, created an intranet resource library, made accessible templates, consulted on office refurbishments, worked on practicalities around prayer and cultural celebrations and advised on accreditation schemes. We are now a
Disability Confident Employer
thanks to the Access at Nexer ERG, and CARING has led the conversation around schedules, with multiple religious holidays to consider.
Flexible Working For All
Nexer Digital started 16 years ago with flexible working embedded into the culture. We have always allowed people to work from where they feel comfortable and to suit their own needs. As we've grown that hasn't changed, and we now have people based all over the UK and work alongside colleagues from all over the world. We embraced part time and flexible hours from the beginning, and now have team members working 4 day weeks, compressed hours, 9 day fortnights and more.
We give extra annual leave and add more on for 'life events'. We offer a public holiday swap for anyone who wants to take their days at a different time, so religious, cultural and social needs can be met without singling anyone out. We offer nomad working, and cultural exchanges and encourage the team to ask for different ways of working.
Recruiting Right
Our recruitment has always been quite laid back and relaxed. We talk about 'chats' rather than 'interviews'! As friendly as this can be, we know it's open to bias and can become un-inclusive quite quickly. We've done a lot of work around recruitment processes with the ERGs, and are in the middle of sourcing systems, organising training and implementing diverse interview panels to revitalise the way we hire.
Informing our practice
The ERGs are about employee voice and shifting policy, and it's vital people feel free to discuss concerns and ideas in a safe space, without pressure to share or too much "management" intervention. Equally, the people with lived experience shouldn't carry all the labour, so we need to find a balance between protecting conversations while sharing with a wider group, so we all do the work in understanding. However, if we get this right, we would love to share more widely.

We are also looking at how this informs our day-to-day project delivery, and which groups we might form next. In the current political climate, the threat to trans inclusion and given the make-up of our team, LGBTQ+ is an obvious group to form at Nexer. Although our own rainbow community might not have felt that need, thankfully, we should look at how we might challenge the way products and services are typically designed by heteronormative and Cisgender experiences. Watch this space!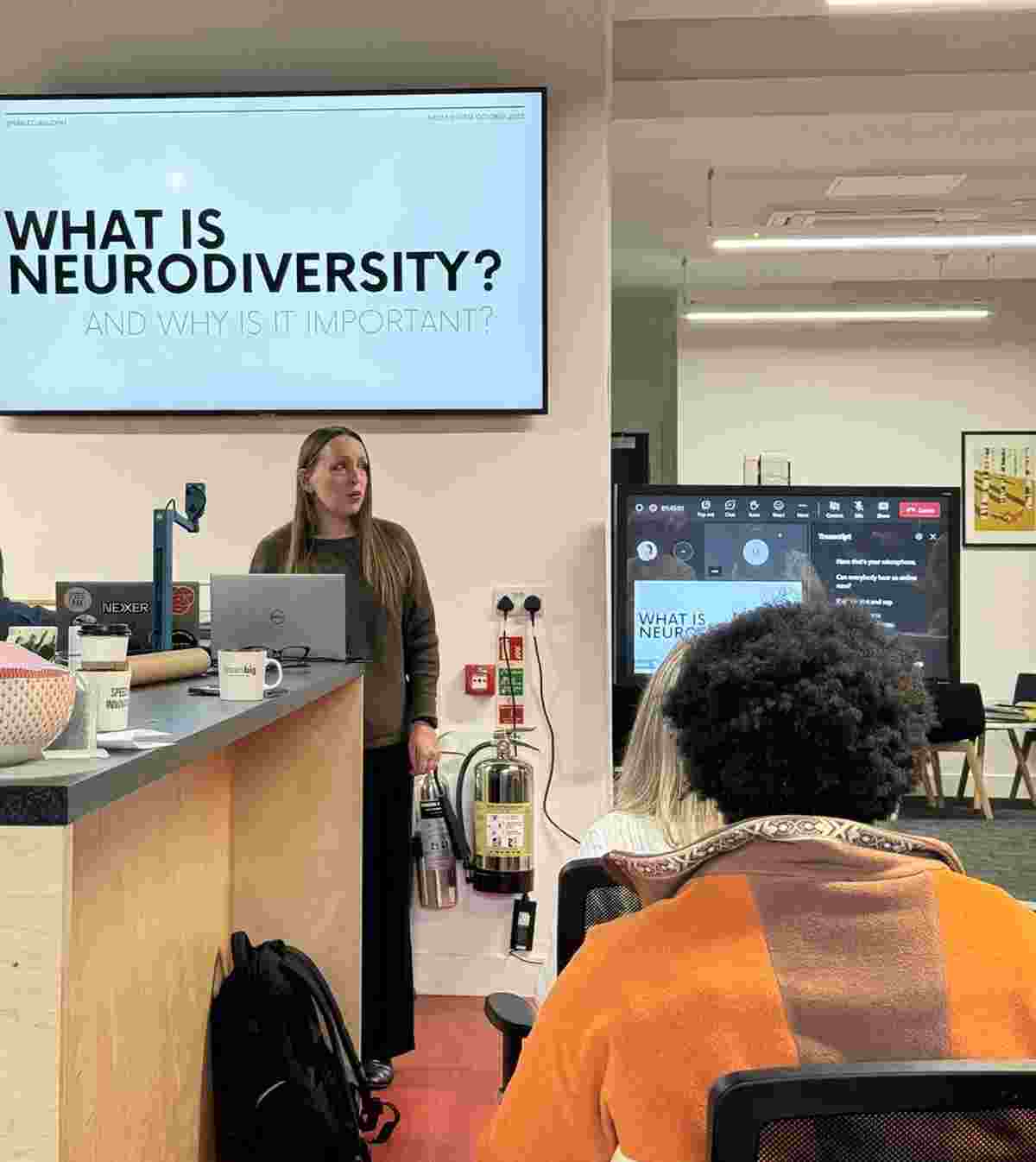 Neurodiversity and inclusion
Our commitment to inclusion includes a commitment to continuous learning and the acknowledgement that it's an ongoing process, with room for improvement always present. So, when accessibility consultant and public speaker Rachel Morgan-Trimmer reached out to us a couple of weeks back with some accessibility feedback about this year's Camp Digital, we were grateful for the opportunity to reflect and improve on areas we might have overlooked.
It was also brilliant timing, given the work we'd been doing, and the upcoming team meeting, and so we invited Rachel to come along and speak to us. Rachel's talk was a lively, thought provoking and often humorous explainer of neurodiversity and individual experiences. It's given plenty for us to reflect on around ways of working and taking an approach that is inclusive to neurodiverse individuals, and we'll be following up with Rachel to see how her work might influence the Access at Nexer ERG.
The above represents just some of what we've been working on to move forward our inclusion efforts, but it's an ever evolving process of learning and iteration. The amazing contributions of our team and ERGs have really been driving these developments, and as we always prefer to take a transparent approach to these things, we're keen to share the outputs as much as possible. Stay tuned. :-)