#Umbraad - promoting accessibility in the Umbraco Community and beyond

Senior Developer, Umbraco Accessibility Team member and MVP Rachel Breeze shares what the team did to celebrate GAAD this year.
Global Accessibility Awareness Day (GAAD), is "a day to get everyone talking, thinking and learning about digital access and inclusion".

Around 700,000 websites are built in Umbraco globally, covering both public and private sector organisations. Danny and I are members of the Umbraco Accessibility Team, and we wanted to take the opportunity to mark GAAD with an event that would include practical advice on accessibility for developers using the CMS across a whole variety of cases. 'Umbraad' was the result. We hosted an online event to talk and think about accessibility across the entire life cycle of an Umbraco project, and involve the wider community too. 
The event was intended to demonstrate that with an estimated one in six of the world's population experiencing a significant disability, accessibility is far from just a checkbox exercise or a legal requirement; building accessible and inclusive applications and websites benefits all users, and it's just the right thing to do.
The stats
7 talks
8 speakers
93 registrations
56 online guests from 8 countries: Poland, Romania, Australia, Denmark, Ukraine, Netherlands, UK, USA


The Talks
Crafting a better editor experience: Bringing accessibility to life in our authoring tools
Danny Lancaster, Accessibility Lead, Nexer Digital 

Danny, who is of course our very own Accessibility Lead at Nexer showed us some examples of how accessibility will impact us all at some point in our lives, and how by adding accessibility into our authoring tools we can empower content authors to create inclusive sites. Danny ended his talk by reminding us:
To run Wave on the services we develop
To share accessibility responsibilities within our own teams
To get involved in the Umbraco Accessibility Initiative (The tickets he mentioned can be found here.)
We are part of a special community. We have the power to change the web using Umbraco.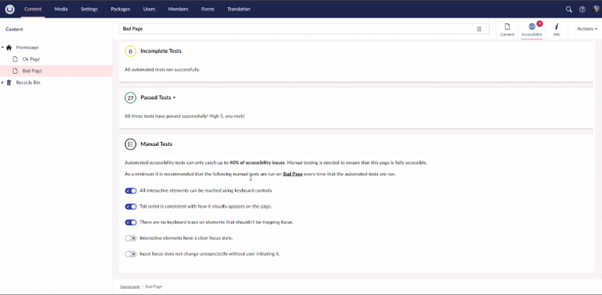 With a nice node to Umbraco with "High 5, you rock" for passed tests
Mastering the Art of Accessibility Acceptance Criteria for better user story development 
Ross Mullen, Digital Accessibility Specialist and Director of CANAXESS
Ross showed how expecting Business Analysts to write acceptance criteria for all WCAG guidelines per user story is a huge task. It requires the BA to have a wealth of knowledge of WCAG and to decode the criteria. Ross explored an alternative approach which allowed people of different technical skills and levels of accessibility knowledge to understand the requirements.
He has developed the criteria into broad accessibility acceptance criteria which can be found here https://github.com/canaxess/accessibility-acceptance-criteria
A picture says less than a thousand words 
Sabrina Jodexnis, Software Engineer, Ubilabs

Sabrina reminded us that at some point in our lives, many of us won't be able to use websites in the same way we currently do. She reminded us that images can offer important or additional information for users and provide additional content. If you miss the information you won't have the same response as someone who sees them, which is why it's so crucial to include alt text.
Sabrina gave us lots of guidance on how to describe images:
Be objective when defining images rather than opinionated. Avoid using phrases like "beautiful" or "ugly", or other opinionated copy.
Do not write say "picture of" for alt text as screen reader will say "picture of". 
Alt text depends on context. 
Alt text can act as a functional description, where the normal text is the editorial description.
When adding alt text, check if the copy duplicates the content.
Sabrina's talk also discussed SVGs and the use of ARIA, as well as exploring topics like static maps, decorations and diagrams. For diagrams, she reminded us not to forget about colour blindness, as well as people who might not see the diagram.


Learn the rules to break the rules 
Ravi Motha, Umbraco developer at DotCentric
Ravi took us through the history of web development, reminding us that the first set of WCAG guidelines were established back in 1995.

Ravi's talk explained how everyone involved in a project, including clients, is involved in the process of creating accessible sites. He reminded us that we cannot break the rules, and that building accessibility into our processes, and practising them every day helps them become automatic and embedded. 


Niel Collins and Vicki Angus
Niel Collins, Head of QA at Great State and Vicki Angus, Account Director at Great State
Vicki and Niel reminded us that equity in a CMS isn't just about physical difficulties it is about reducing cognitive processing and cognitive load. They showed how Happier CMS Users mean happier end users. They also showed how accessibility isn't just about dumping WCAG in your quality assurance processes; doing this makes the QA a blocker for a release going out the door. If we collaborate with QAs and embedded inclusivity and accessibility across the process, this will reduce issues found in the QA process.
Accessibility is a partnership requiring communication and collaboration
Maxwell Ivey, accessibility expert, speaker and podcast host
Maxwell Ivey is also known as the Blind Blogger and based his talk on his own experiences of becoming legally blind by Junior High. Max taught himself HTML as he couldn't use WYSIWYG editors.
Max pointed out "the disabled community are so used to being faced with products and services that don't take our needs into account, that when we do find brands that create accessible products and services we advocate for that brand.", and share some tips for building accessible products including:
Automated alt tags are generic, and AI-developed ones don't tell the blind person what it is, and why they should care about it.

Avoid using colour descriptions that take cues from other objects, e.g. 'Salmon pink'.
Consider a user's workflow as well as accessibility.
Max explained that a lot of the time we focus on fixing immediate accessibility issues, and we don't think about the wider picture. This is when feedback from users becomes incredibly valuable, and the opportunity to collaborate with people becomes so important. To this end, it's also important to make people with disabilities aware of any changes to a product or service, so they're aware of how it impacts their workflow. 
Accessibility isn't only the right thing to do it's the best thing to do, it benefits business and users.
The takeaways
To develop inclusive and accessible sites, all members of the team as well as your clients must understand the need to create accessible sites and be empowered to do so.
By practising designing, developing and testing for accessibility in the day to day of our roles, the tasks soon become automatic and embedded in every part of what we do.
Organisers