Health Innovation Manchester: Understanding patient and carer experience of digital primary care in Greater Manchester
In collaboration with Health Innovation Manchester, Nexer embarked on a project aimed at understanding the patient, carer, and practitioner experience of digital primary care.
Health Innovation Manchester work with innovators to discover, develop and deploy new solutions that improve the health and wellbeing of Greater Manchester's 2.8m citizens.

In collaboration with HInM, we embarked on a project aimed at understanding the patient, carer, and practitioner experience in primary care. Our goal was to bring together the voices of patients, clinicians, and administrative staff to establish a solid baseline of user needs from which to explore new pathways, system improvements and communications.

Our work with HInM has also included two further projects. We completed a comprehensive assessment of the usability and accessibility of the Greater Manchester Patient Held Record rollout before its integration with the NHS App. We also helped evaluate the experiences of patients, carers and clinicians with new virtual wards, providing valuable insights HInM could use to inform future policy and service design. A detailed write up of our work on virtual wards can be found here.


The background
Health Innovation Manchester is working closely with GP practices to better understand the way patients use their digital solutions. The platforms used by each GP practice are critical to the successful patient engagement, from obtaining advice, appointment booking, prescription ordering to following up consultations or referrals. The aim is to promote digital inclusion, increase uptake and reduce the load on offline channels. HInM conducted research to identify what barriers patients and practices face when introducing new technologies, and what improvements can be made to make them more user-friendly, inclusive, and accessible to all. We set out some key objectives for the research:
Patients point of view: to understand the patient experience when interacting with GP websites.


Perceptions that differ: to understand the gap in perception between clinicians / surgery staff and patients / end users of the system.


Adoption barriers: to understand what prevents different user groups from adopting technology and what could motivate them to do so.


Challenging assumption; young = digital: to challenge the assumption that age is a major factor in using GP systems and to highlight the challenges that younger people face.


Role of third parties: to find new ways to influence the development of new products by third parties.


Hypotheses building: to inform HInM's hypotheses and 'How Might We' statements that might guide their approaches to digital inclusion in a measurable way.
Our approach
 To tackle the above research objectives, we used the following approach:
1-on-1 interviews with different types of patients and carers, with the user groups as follows:



Patients who know how to use technology but haven't signed up.
Low usage groups, those who have signed up on their GP platform, but don't actively use it.
Patients and carers with special accessibility needs.
BME, those with language barriers and community groups at risk of digital exclusion).

The interviews consisted of exploratory research and observational usability testing. Explorative questions were asked to better understand their context and user needs. Where possible, participants were asked to share their screen and show how they performed tasks, so it was possible to observe the key usability issues when interacting with different systems.


Synthesis: the highlights from each session were captured in individual capture sheets (noting the key insights, challenges, opportunities and quotes). These insights were later combined into key themes during a group analysis session.


'How Might We' workshop with HInM: A workshop was held with the HInM team to reframe some of the key problems raised by the user research and turn them into 'How Might We' questions. Using these questions as a design opportunity was an effective way to improve how the service works for patients. Ideas were generated and then prioritised based on their perceived effectiveness (impact) and the cost/effort it would take to implement them.


Empathy maps: A collaborative diagram used to articulate what we know about a particular type of user. They captured what we discovered about patients and carers to create a shared understanding of their user needs and help us to understand them and their context better. They also enable us to make better decisions and understand their impact.


Journey maps: These artefacts map the entire end-to-end experience of a patient or carer whilst interacting with their practice and using its services. The diagrams included everything they encounter from the discovery process through to the end of their experience and beyond. The focus wasn't on transactions, but rather how the patient or carer feels after interactions with the surgery.


Accessibility audit and cognitive walk through: This helps build a richer picture of the accessibility and inclusion challenges different users face when accessing their health services. The team also conducted multiple expert reviews (focused on 6 vendor applications and 9 GP websites) including:



Automated audits using the Web Content Accessibility Guidelines (WCAG)
Manual audits using different assistive technologies (screen readers, etc.) and devices (laptop, smartphone)
Cognitive walkthrough of key user journeys (register with the practice, contact the practice) with team members that have experience living with impairments.
What we achieved together
Patients' voices were heard: "All the GP's have a different website. There is no one user interface. There is no one system. They all have their own versions of their own booking system."
Carers' voices were heard: "I'm not an expert, I don't understand all the information. Sometimes what you need is a voice saying: 'Yes, you're doing the right thing.'"
Nexer's role was to build a strong, qualitative, evidence base of the patient and carer needs when accessing primary care for Health Innovation Manchester to utilise in the improvement of primary care digital platforms.

Five key themes were identified:
Making things better
Impact on patients
Digital fragmentation
Barriers to access
Communication and awareness
Within these core themes, there were the following insights:
Making things better
Patients are willing to change and adopt new behaviour if they see the value/benefit for them.
Digital platforms had a positive impact on patients' lives, especially those that face mobility barriers.
Reassurance from their doctor is what patients really want, but they are open to different approaches.
Impact on patients
Being unable to use digital primary care services and long waiting times has an impact on patients' mental health.
People often feel forced to use a system they don't want and unable to speak to a person instead.
Digital fragmentation
Each practice has their own website and different version of the booking system, and this confuses users.
There is a confusion between GP websites, 3rd party tool and the NHS app. This is an extra barrier for adoption.
There is a lack of understanding of accessibility barriers which means that most practice websites are not considering diverse needs from their patients. E.g., reading, learning disabilities...
Barriers to access
People that don't or can't use technology as well as the majority worry that they will be left behind.
Patients might try to use online services, but they don't understand the content. This doesn't meet patients' needs and will resort to calling, causing extra load on the system.
There is an underlying assumption that everyone understands English and lack of diversity in the practice's staff makes it hard for them to imagine or empathise with the situation of their patients.
Communication and awareness
There has not been a national campaign promoting digital services, so it's up to each practice to inform their patients. This may leave some patients in the dark.
Patients really struggled trying to get an online account, felt it was complicated and the process was unclear. 
Patients feel that doctors only contact them if something is wrong. Not hearing anything back leaves the patient chasing for updates.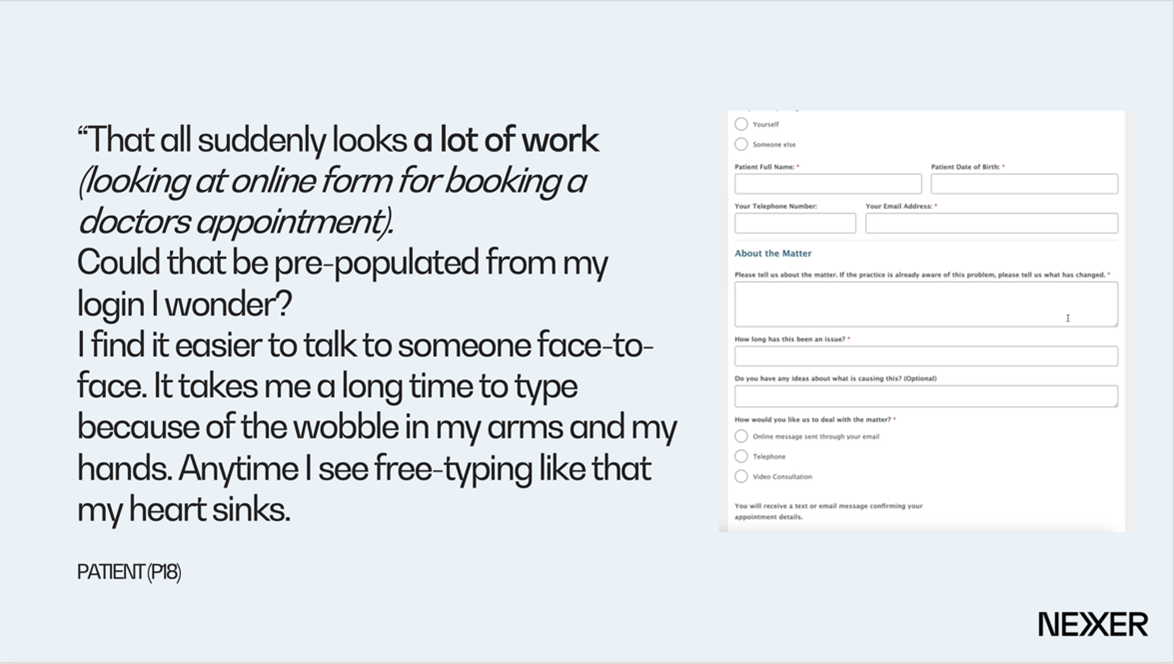 From the research findings we populated empathy maps to create a shared understanding of each user group's needs, these artefacts would also be used moving forward to make better decisions.
In each empathy map (6 in total), we collated the following insights per user group:
Who are we empathising with? Who is the person we want to understand? What is the situation that they are in? What is their role in the situation?
What do they need to do? What job(s) do they want or need to get done? What decision(s) do they need to make? How will we know they are successful?
What do they say? What have we heard them say?
What do they do? What do they do today? What behaviour have we observed?
What thoughts and feelings might motivate their behaviour?
What do they see? What do they see in their immediate environment? What do they see others doing? What are they watching and reading?
What do they hear? What are they hearing others say? What are they hearing from friends? What are they hearing from colleagues? What are they hearing second-hand?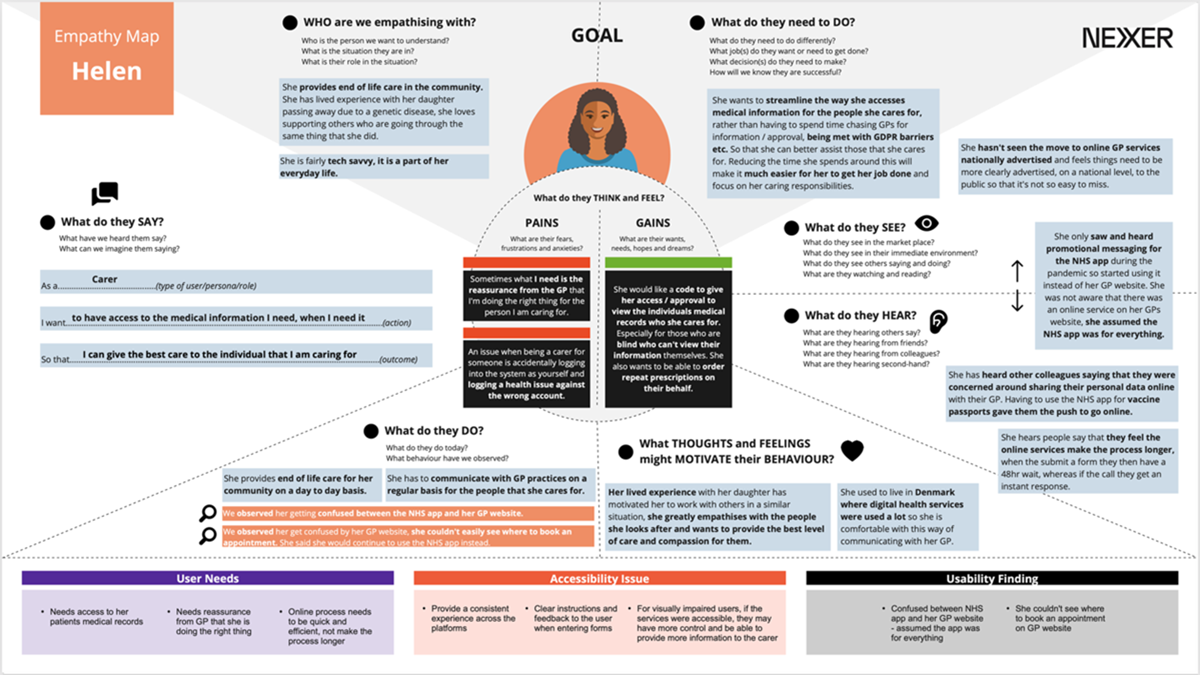 Below each map in the bottom section we logged key user needs, accessibility issues and usability findings to complete a rich picture of each user group.
Following the creation of the empathy maps we created individual patient journeys which mapped out the entire end-to-end experience that someone had while interacting with their practice and using its services.
In each map we mapped the 'before' stage, which was identifying the need followed by the trigger, the 'during' stage which entailed trying to book an appointment or reach out for help either online, in person or via telephone, and the 'after' stage which detailed what happened after help was requested/received. Other layers in the map included:
Actions
Channels and touchpoints
Thinking and saying
Feeling
Accessibility review
Below the interaction line: GP practice staff actions and systems
Interventions and considerations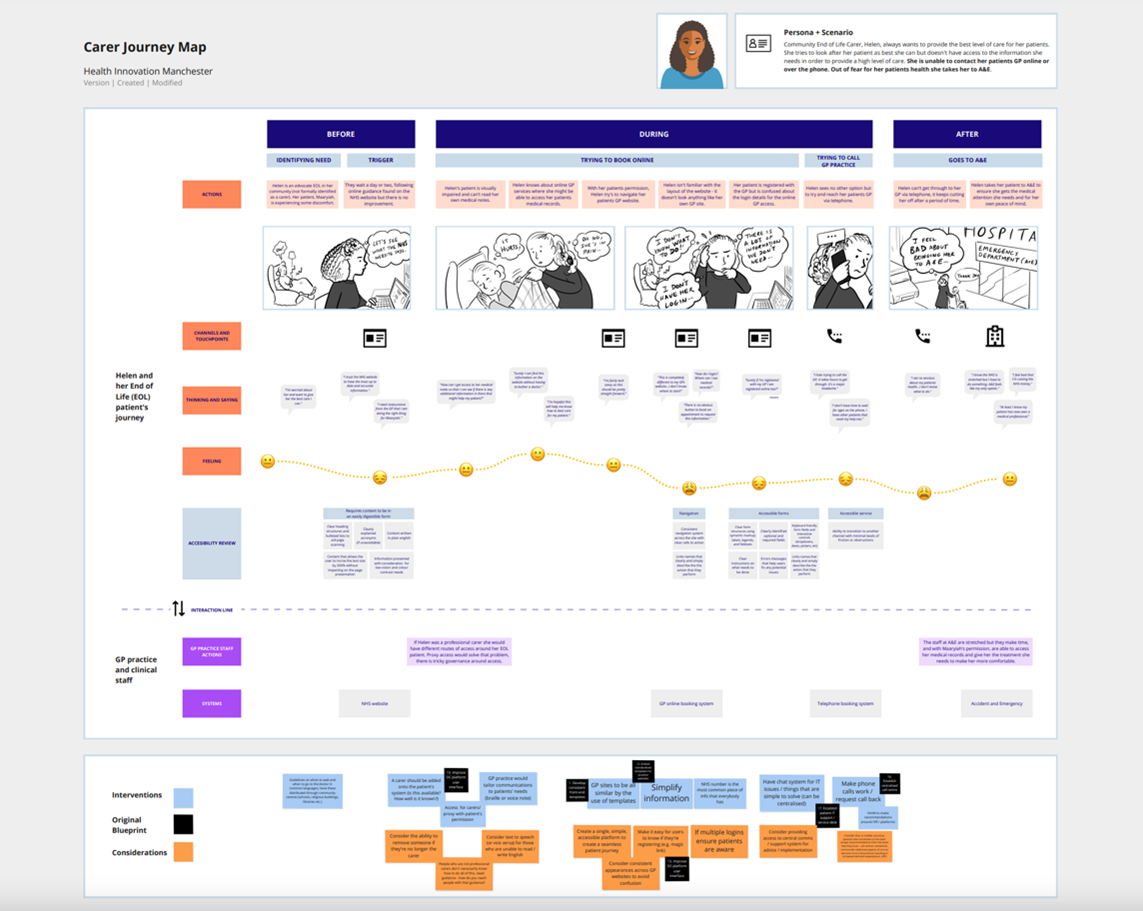 To aid with the user research, a technical audit was required for all the assets within the sample.
An accessibility audit is a technical audit analysing the accessibility, implementation and design of a service. By using automated tools to review at a code level, and manual tools and techniques to view user interactions, we can reference these against the Web Content Accessibility Guidelines (WCAG) to see where standards are not being met. The WCAG are an internally recognised framework to ensure our services meet guidelines.
However, the WCAG in isolation will not effectively capture the user's struggles when navigating to key features and content. By using the Web Content Accessibility Guidelines Evaluation Methodology (WCAG-EM), it puts the users as the focus of the process by incorporating key user journeys.
We reviewed the following digital platforms:
9 x GP Surgery website reviews – For each surgery website, the 2 main journeys were to register as a new patient and to contact the surgery online. This ensured we covered the first point of call for most patients in that they need to register to their local surgery, before being able to use their 3rd party systems to access medical assistance. The second journey covered for instances where the patient is unable to register online and needs to contact the surgery directly.
6 x reviews of GP 3rd party venders – these are the online services that patients are expected to use instead of making calls to the surgery. This could include prescriptions, appointments or general follow up information.
Through the reviews we discovered:
Register:
Out of the 9 websites, only 2 had a direct route online to register for the surgery.
2 other websites involved the use of an inaccessible PDF that the patient needed to complete and bring to the surgery to register.
The other 5 did not provide an online option and all registration happens on the surgery premise.
Contact:
Out of the 9 websites, only 1 had an easily accessible contact form that could be submitted online. However, this form uncovered many accessibility failings relating to clear form labelling and ability to navigate through with a keyboard.
The other surgeries offered ways to provide feedback on the website, but not contact the surgery directly (any contact options related to a phone and/or postal address).
Likewise, functionally some services were incorrectly providing false information. Such as an example where the surgery advises as "Open" (during working hours) but the contact page advises the surgery is closed and can not submit requests. While this information was wrong, functionally, there is no reason a contact form could not be submitted outside of these times.
3rd Party Vendors:
Out of the 6 venders reviewed, all of them had accessibility failings within the environment.
Likewise, all of them had at least one issue that would be deemed critical in its impact to the user (in that it would cause serious problems to bypass the issue, or would block them from continuing).
The most common issues related to heading structure, colour contrast, keyboard navigation and form labelling.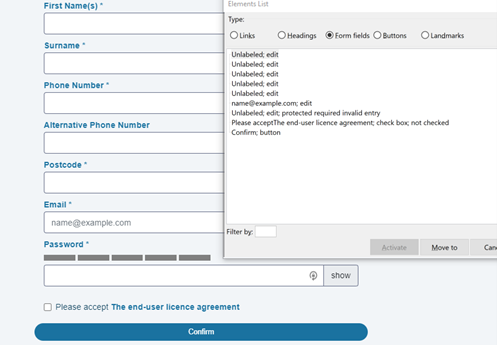 Missing form labels from the registration form means that when a user with a screen reader is navigating through, they hear "unlabeled" instead of the visual label (e.g. "First Name").
The current challenge for patients online is they are dealing with surgery websites that are both inconsistent and inaccessible, and then being forced to use a 3rd party web app that is also inconsistent and inaccessible to manage important medical and health-related aspects of their lives. The current failings mean that patients are more likely to find success by continuing to phone the surgery and attend in person, rather than navigating these online features.

A method for us to track the differences between the many different environments. The "Fail" markers indicate there is a lot of potential barriers for patients online.
The impact we made
As a team, we created a greater understanding of patient and carer experience and needs when accessing primary care through visualising key user needs, specific to the user segments identified, in the form of empathy maps and visualising the service in user journeys, which were supported by evidence found during qualitative research with patients and carers and the accessibility audits conducted by our team.
Get in touch
Please get in touch with hilary.stephenson@nexergroup.com if you would like to discuss inclusive research, service assessments and accessibility in healthcare.