Women Out West: Developing a concept for survivors of domestic abuse to safely check-in whilst at home
Nexer helped Women Out West with service mapping, workshopping and ideating, and prototyping an app to help and support at-risk women.
Women Out West (WOW) is a non-profit organisation offering support to all women in a safe, welcoming, and women-only space. They're run by a Time to Change (West Cumbria) Project Community Interest Company and operate a Women's Centre to help and support women with mental wellbeing, social isolation, and domestic abuse. WOW provide women with support, housing, debt and money management.
WOW's aim is to encourage and empower women to reach their potential by accessing support, learning new skills, building confidence and self-esteem, developing social skills, and thus improving their overall wellbeing. 


The background
During the project, we found out that a lot of the time survivors of domestic violence come from disadvantaged groups, and they often have no close family or friends who can help, support and check-in with them. They therefore are socially isolated, alone, and vulnerable.
 Having an emergency, and it going unnoticed, puts them at risk.
Our approach
Kick-off, goals and vision workshop
We got together with WOW to frame the challenge and gather insights into WOW as an organisation, the people they support and the problems that they face.
Service mapping
We facilitated a workshop with WOW to understand how the service currently works. We then identified opportunities for intervention.
Idea generation workshop
By taking a step back and focusing on the problem, together, we generated multiple ideas as a group.
Playback and next steps
We shared what we had learnt with WOW and developed one concept further and mapped out next steps to take the idea further.
What we achieved together
Together we framed the problem:
The service users are socially isolated with low self-esteem, no family or friends, there is no one to go round and check that they are ok.
They have been let down by statutory services in the past and are hesitant as to whether WOW can help.
Once we thoroughly understood who Women Out West help, the problems their clients face and how WOW help them, the next phase was to map out the steps in the service from both the client and service delivery perspectives.
We gathered information on the 'before', 'during' and 'after' to understand how clients discover the service, how they are signposted, how the process works whilst receiving support and then what happens when it is time to exit the service.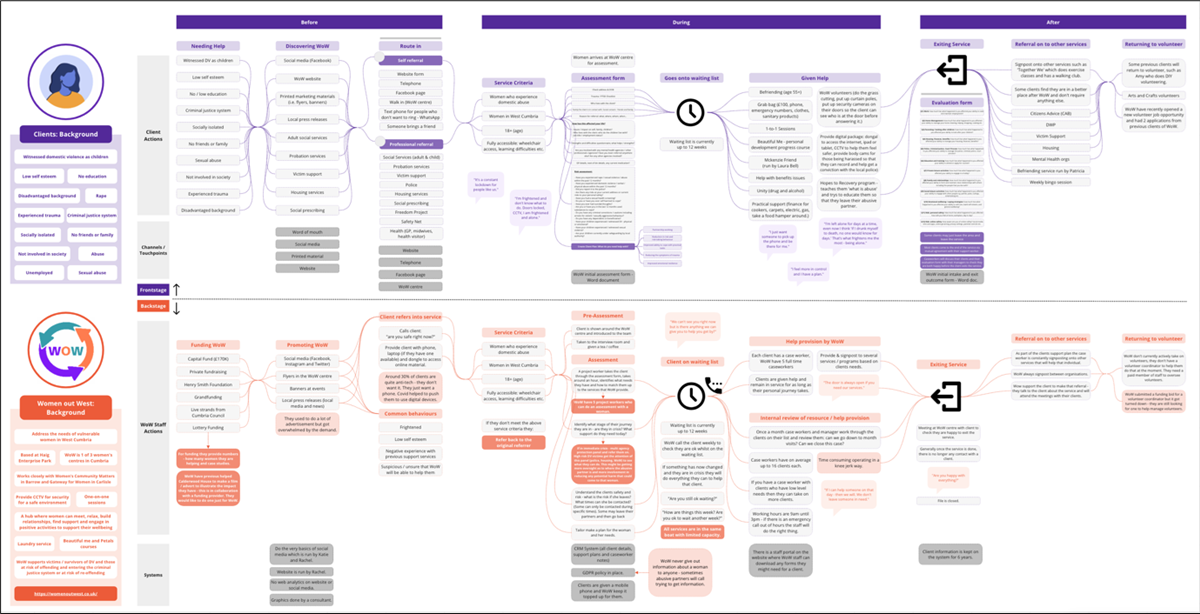 Visualising the layers of the service enabled us to understand how future concepts would fit into the existing service and complement WOW current staff's ways of working.
After we had understood how everything currently worked, we moved on to ideate ideas for how women who had experienced domestic abuse could safely check-in.
WOW came to Nexer with the original idea of an app to solve the problem, but to ensure we explored every avenue we put that idea to one side and returned to the problem statement, with the addition of a 'How Might We' question to ideate around;
Most survivors have no close family or friends who can help, support and check-in with them. As a result, they feel isolated, alone, and vulnerable. Having an emergency and going unnoticed puts them at risk.
 How might we ensure that they are safe, connected, and in control of their daily lives, when they're alone?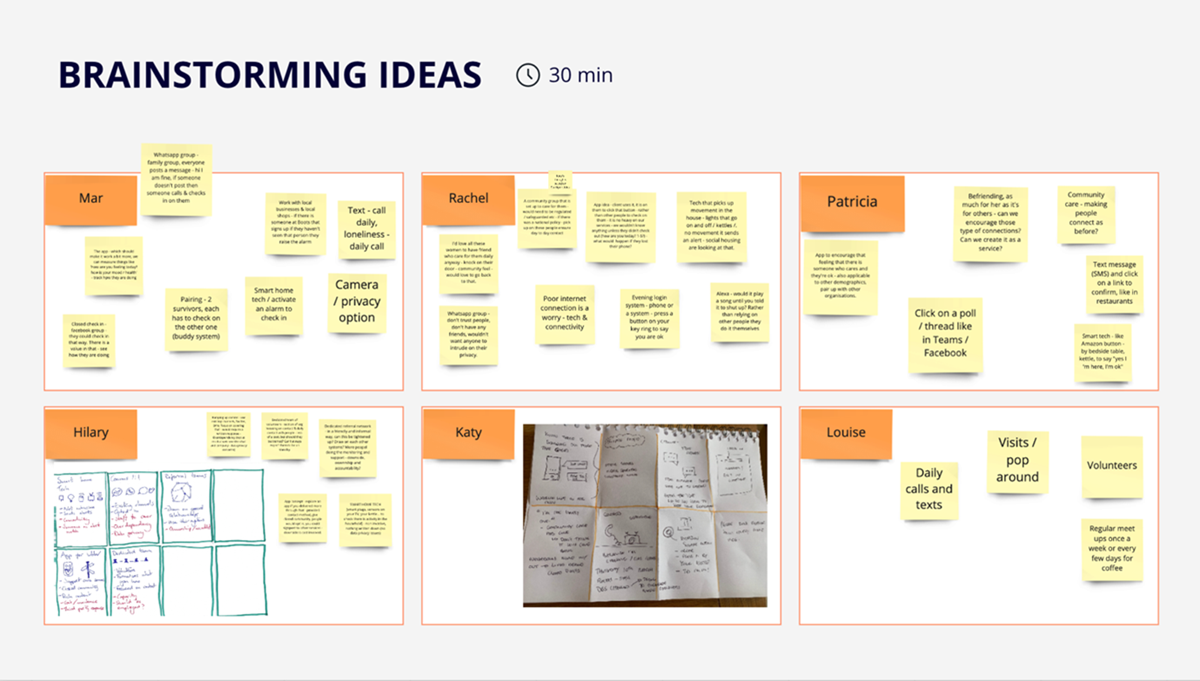 There were 3 key ideas that came out as most popular:
The original app idea, but getting it to do more.
Implementing a buddy system, by pairing two WOW clients together to check in on one another.
Building communities, by creating safe places and support systems, facilitating networking and utilising volunteering.
Going wide with the ideas was important because we needed to acknowledge any other ways that we could ensure clients are safe and connected outside the original idea. We also needed to validate whether the original idea was still the best way to solve the problem.

Developing the app further:
We decided to take the app idea further but to make it do 'more' than originally planned. To get started we moved forward with designing user flows for the app. This was important as it helped us to figure out 'what' the app will do and 'how' it will do it.
We started by brainstorming the Minimum Viable Product (MVP): what does this app need to offer to the end user?
The next steps were to build the 'how', by mapping out the flow and journey of a client at WOW walking through the app process: i.e. how do they download the app? How do they sign up? How do they receive a notification?

With the key journeys mapped out, we worked on developing the 'look and feel' for the app. There were key themes we wanted to incorporate into the style guide such as: friendly, warm, reassuring, calming, safe and a motherly feel. With these things in mind, we looked for inspiration online to create an idea for what the app could look like.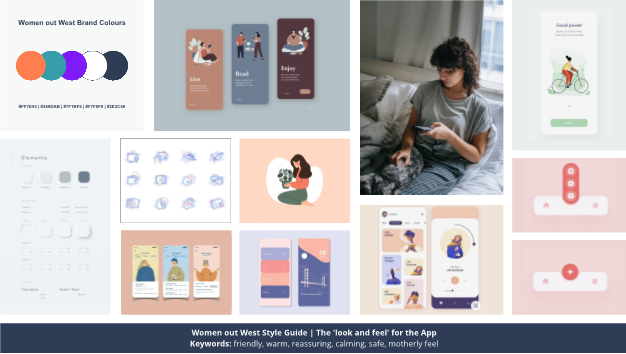 We began prototyping. We focused on the main flows that a user would need to go through to start using the app:
Downloading and setting up their account
Signing in
Doing a 'check-in'
The 'check-in' element is the core MVP (minimum viable product) for the app. Once this is built, the other features can then be added and tested with users. In order to aid WOW in gaining funding for the app we created an interactive prototype, built in Figma and viewable online in a browser window or on a phone like a real app.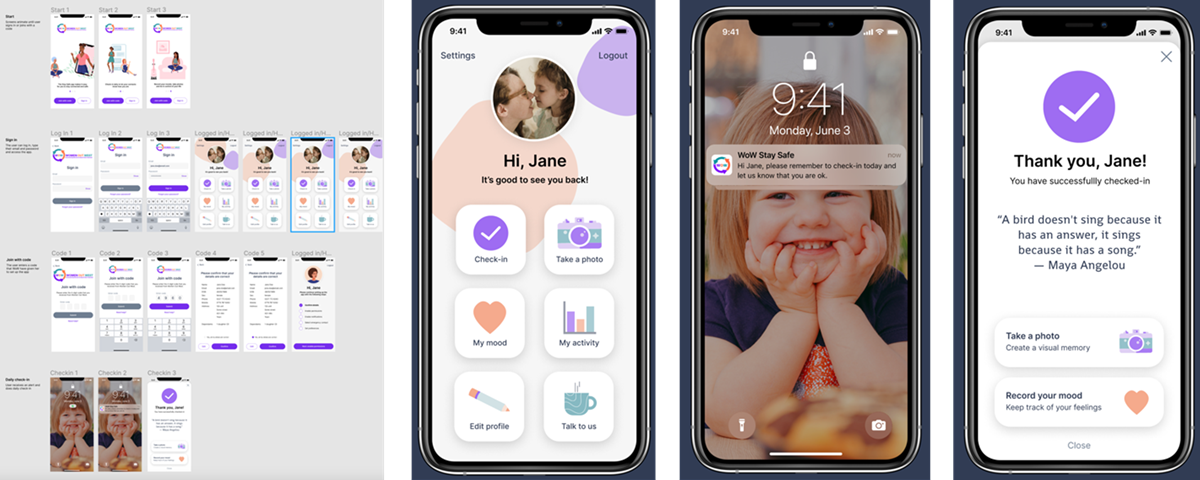 The impact we made
The service mapping work to understand WOW's current service delivery, app prototype and demo videos created were to aid Women Out West to obtain funding for further development. The core purpose was to prevent women who experience domestic abuse from being overlooked or unnoticed in an emergency situation and to reduce the risk to them in these scenarios.
Time to Change (West Cumbria) Project is a small CIC in West Cumbria where we build projects to help those most in need. When tragedy struck and we lost a mum and her son in terrible circumstances the pain we felt was immense. I knew we needed to do something to make sure it never happened again and having no experience or skills in Digital I reached out to see if anyone out there could help us. Nexer quickly formed a task group and supported us through a process to be able to develop a solution that we believed could save lives in the future. Even after the App was designed, Nexer continued to raise funds for us within their team. I like to think of Nexer as not just a partner but as our friends. I always know I can call them with anything I need help with. I want to thank everyone at Nexer for being there in our time of need and for their continual support to us year after year. You are all amazing!!!
Get in touch
To discuss inclusive research, service assessments and accessibility in the charity sector, please contact: amy.czuba@nexergroup.com
Support and advice