A day in the woods hacking sustainability

This week we gathered in the woods to get away from our desks, take inspiration from the environment and generate some great ideas around sustainability.
Our kick-off event at the Whirligig Woods was a fantastic opportunity to get together and enjoy the outdoors. Many of us hadn't seen each other in the two years since the pandemic began, and we've welcomed several new faces to the team since our last get together. Surrounded by trees, chickens and plenty of fresh air, the group took inspiration from the scenery and pooled our diverse knowledge to consider some of the key challenges around sustainability.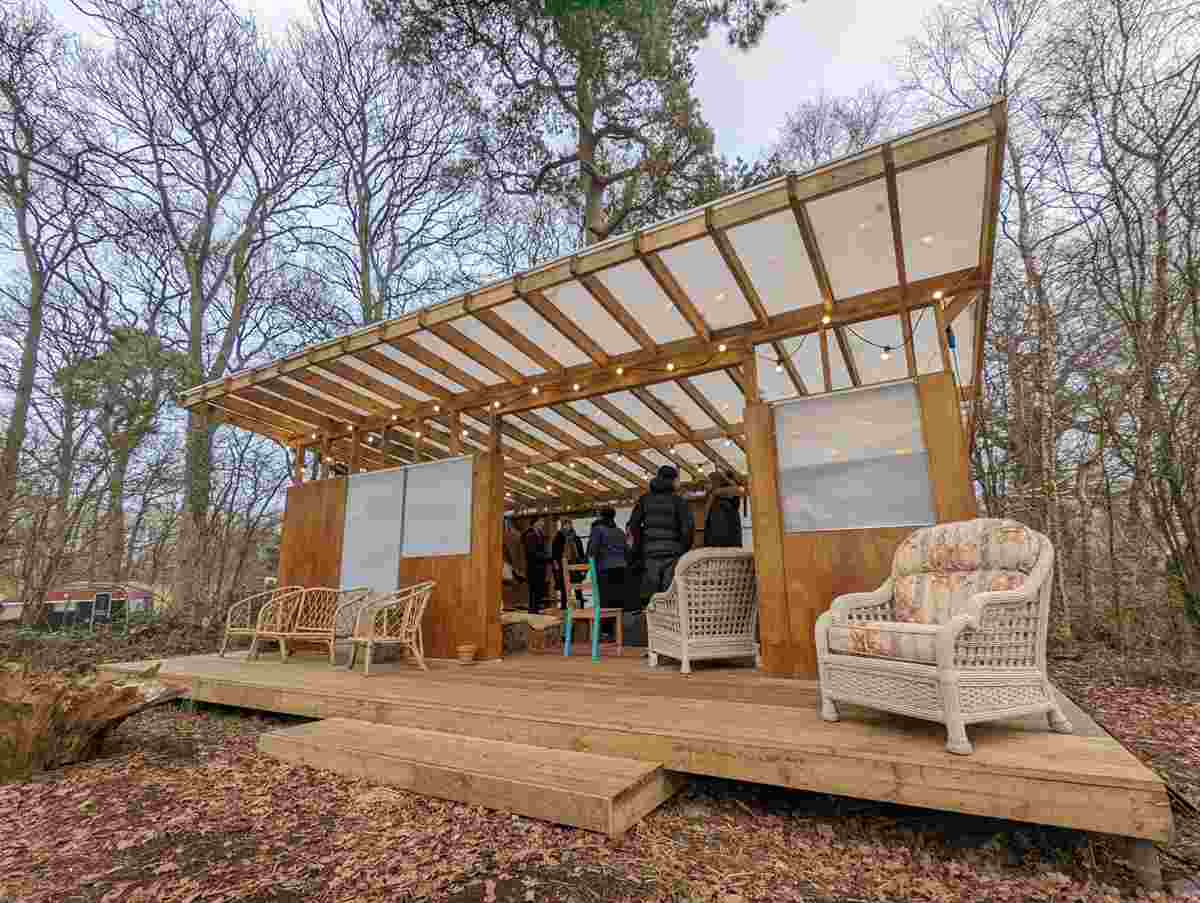 Why sustainability?
With climate front and centre as the foremost challenge of our time, it's important to consider environmental impact, both on a business and personal level. Often the carbon impact of digital can appear to be intangible, but according to climatecare.org, our collective digital consumption emits the equivalent amount of carbon as the entire airline industry. Indeed, Greenpeace International highlight that if the internet were a country, it would equate to the 6th largest global consumer of energy. Acknowledging this, we were passionate about formulating ideas for both long and short term steps we can take to be more sustainable, and how we can bring our clients along on the journey too. 
The challenges
The team were divided into three groups, and each assigned a challenge around sustainability to consider and pitch the following day. These three challenges were:


How sustainable is our supply chain? 
What resources does Nexer Digital consume in order to make and deliver our products and services? How might we identify, understand, assess, challenge and make better choices for sustainable business practices?
How might we help our clients make more considered choices when designing and developing their products and services, and reduce their impact on the environment?
How might we in our personal and professional lives look at our behaviour to ensure we are mindful of what we create and what happens when it's no longer useful?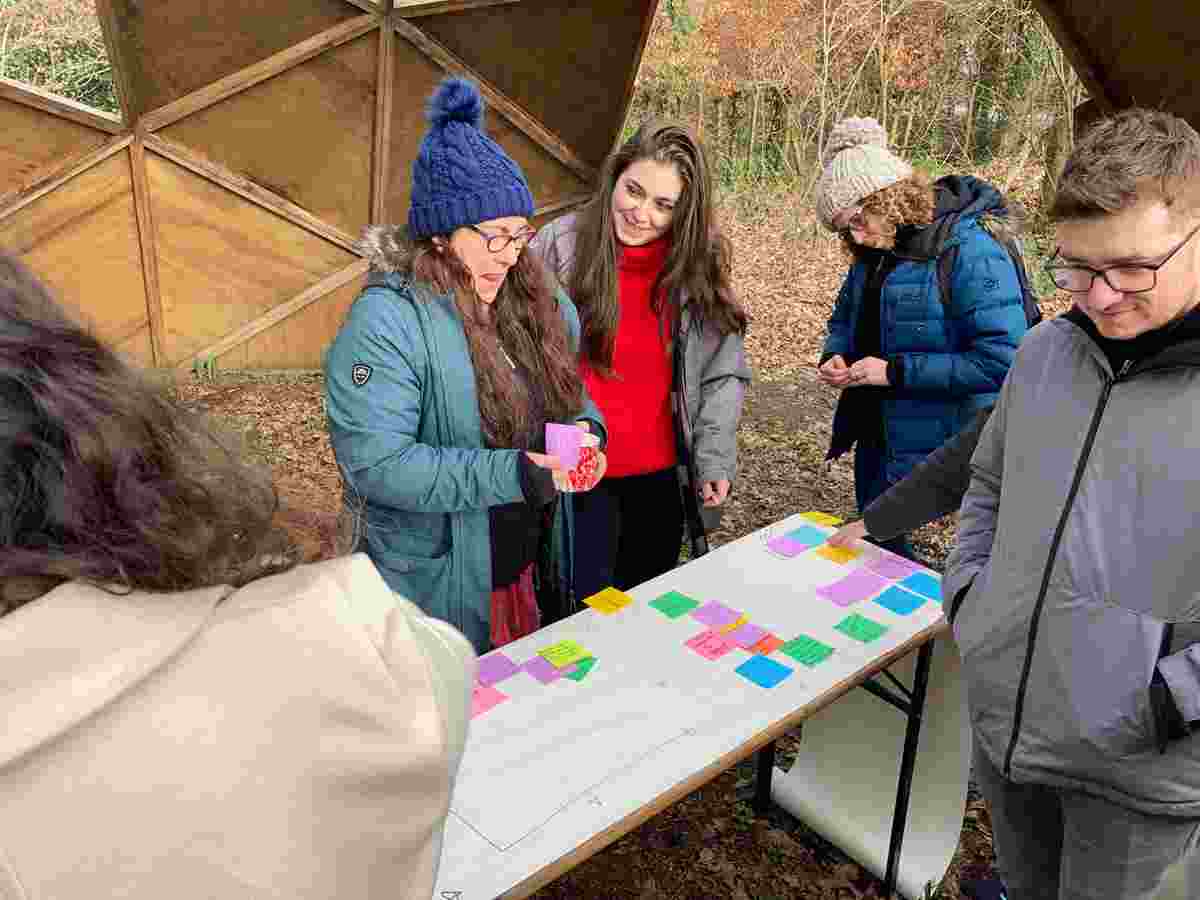 The method
With the challenges assigned, we all disappeared to our designated team workspaces (well equipped with biscuits, sharpies and post-it notes) and got to work. We started by putting our heads together on the broad ideas, jotting down any thoughts, questions and prompts, and then arranged our post-its into broader themes. With a break for lunch and a pause for a quick wander around the woods, we were back at it, distilling our suggestions into future-facing solutions, organised by timescale and ease of implementation. Then back to the office to get cracking on the pitch presentations!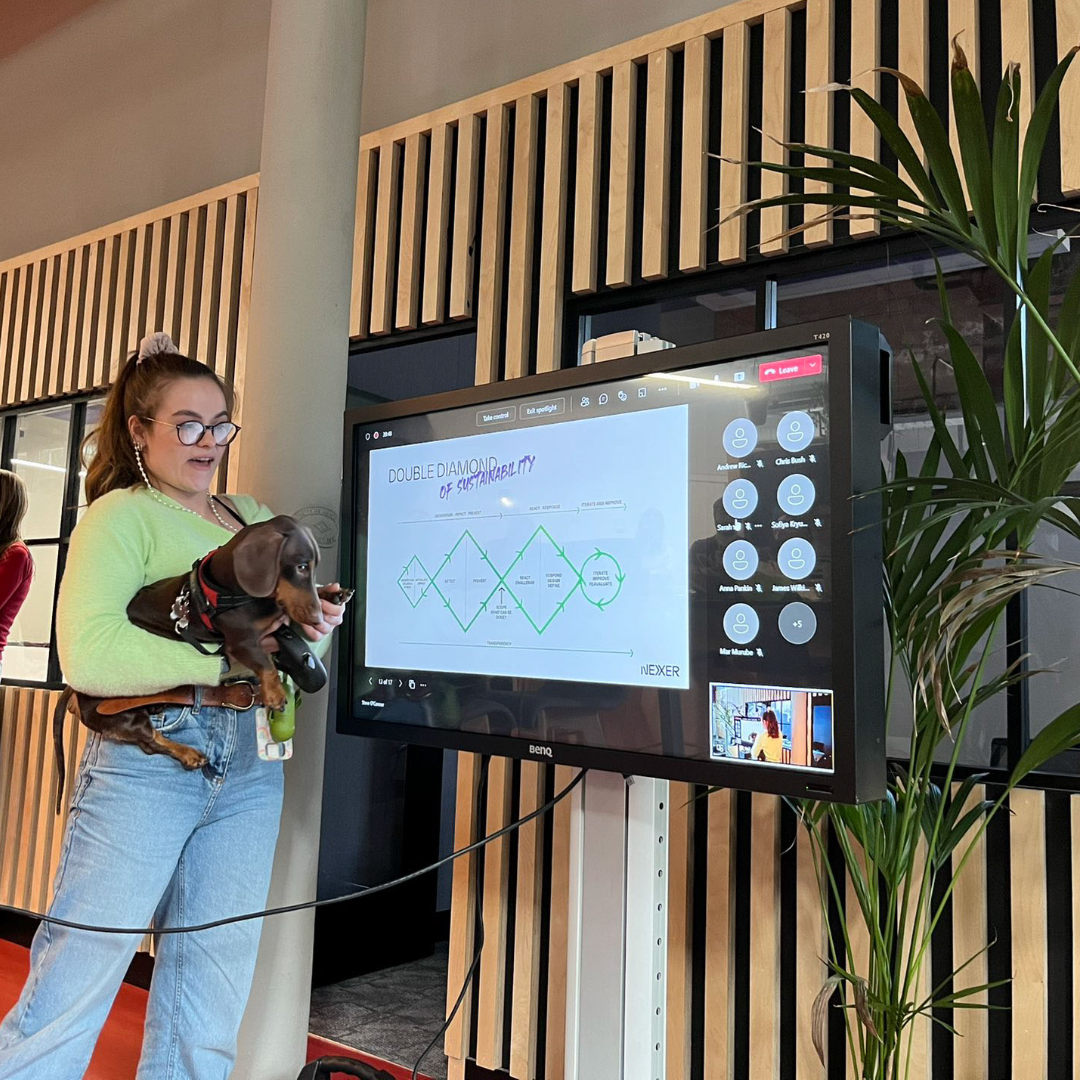 Presentation Day
At the office and before our esteemed panel of judges (members of the team who couldn't make the gathering ;) ) our groups delivered their presentations, with some assistance from Otis the Dachshund. 
After much deliberation, our judges selected Green Clients as the triumphant winners, with the grand prize being a visit to the outstanding Edinburgh Botanic Garden, a new client with a focus on digital sustainability. It was difficult to choose a winner because all the ideas pitched during the session intersected as part of the wider theme of sustainable future, and all offered valuable suggestions for how we can work towards that goal. The teams did a fantastic job, and it was inspirational to see partnership and collaboration yielding such brilliant results. Speaking of which….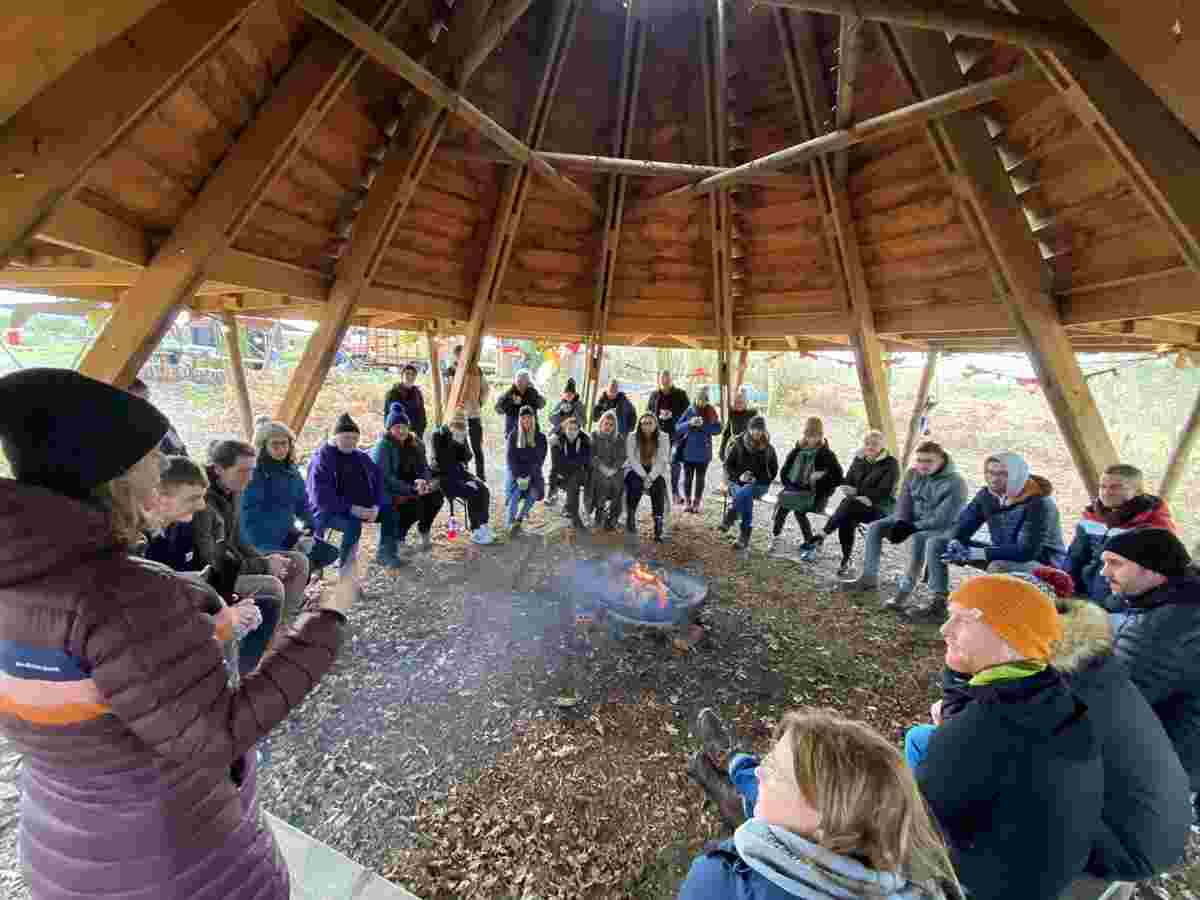 The future
You may have noticed that we haven't gone in-depth about the ideas pitched during the presentations. That's for good reason. Some of these proposals were ones we want to focus on implementing in the near future, and when we do we'll be rolling out more detailed discussions, information and case studies.

A huge well done to the team for a fantastic couple of days, and we look forward to supporting these outcomes with some exciting work very soon.

A massive thanks too to our lovely, local friends at Wild Rumpus for hosting us and to Feastible and Dan Hardman Bakes for fueling us so well.