Service Design in Government 2022: Our main takeaways

Service Designers Danielle Stone and Amy Thornley share some of their key learnings and takeaways from SDinGov 2022 conference, held in Edinburgh last month.
Service Design in Government 2022 saw a very welcome return to real-world meetups. The conference, held annually, is aimed at both government and agency employees who manage, design or develop public services and civic tech. Amy Thornley and Danielle Stone from Nexer's Service Design team travelled up to Edinburgh to immerse themselves in discussions and workshops over two days under the shadow of Arthur's Seat.
Danielle's take: Taking inclusion up a level  
For me one of the themes of the conference that really stood out was inclusion. This is an obvious one for us, so we were keen to hear the experiences of other thought leaders in this space.
We talk a lot about ensuring we, as the people in the room designing things, must take steps to include diverse perspectives in our research. The message of many of this year's speakers was that we can go further than that. In her Keynote, Shabira Papain advocated including people with lived experience in the design process, keeping them included in the process and the outcomes and collaborating with 'community researchers' to unlock deeper, often unseen experiences within those communities.
In their session about design for better cities, Stephanie Wade and Ruben Ocampo described how this kind of relationship could make a huge impact. They explained that "having someone as a bridge between us and justice-involved residents [unlocked conversations] in a matter of months that would have taken us years."
In our last session of the conference, we were treated to a lightning talk by Ozzy Anwar. Ozzy described his journey from prison inmate to working as an inclusive design advocate in the justice system. Hearing Ozzy's perspective was a huge breath of fresh air. He got the loudest applause of the conference. It's not often that you hear whoops and cheers at the end of a talk. 
This recurring theme was inspiring, and I could see opportunities in some of the connections that Nexer has been forging with organisations like The Responsible Tech Collective, Diverse and Equal and the Disability Confident employer scheme, as well as with our colleagues who are strengthening connections and advocating for people with hearing loss (specifically Usher Syndrome) and neurodivergent communities.
Dani's four key takeaways: 
Include people with lived experience in the design process
Consider intersectionality rather than simplistic views of minority groups or communities
'Design for the 20%' of the most underrepresented user groups first
Don't be tokenistic about bringing those voices into the design process
Amy's take: Designing for uncertainty
Covid-19 and the Ukraine War have meant that we are designing in a time of unprecedented uncertainty. This was a recurring theme of the conference, to explore how we've found ways to design quicker and at a larger scale than ever before, even in the most difficult circumstances.
In a talk entitled 'The ethical use of friction - a homes for Ukraine case study', Jess Kyriacou, Georgia Hilll and Millie Devereux talked about having to move quickly to get a service live in 48 hours and not being able to do discovery. Instead, they had to get things up and running and iterate as the service went along. They talked about using research throughout to improve the service.
Dean Vipond discussed similar challenges in his talk about The history and future of the NHS design system, with a particular focus on designing during the pandemic. The design system the NHS team created allowed them to move quickly and focus on the service itself, the user needs and requirements. This showed how systems, guidance and patterns can be used to design quickly in the wake of changing circumstances.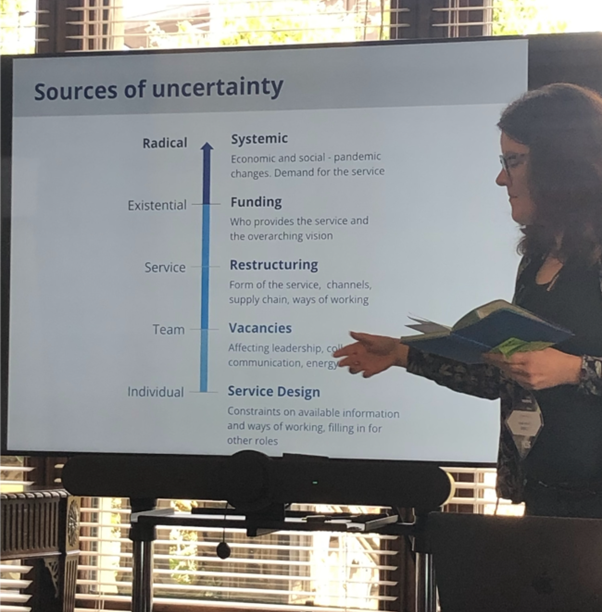 Workshop "What now? Designing for uncertain global times"
In their Citizens Advice workshop, "What now? Designing for uncertain global times", Louise Costelloe-Ward, Emma Ruskuc and Maria Carlisle looked at how to design for scenarios like the Covid-19 pandemic and the cost-of-living crisis.
This was a particularly timely theme for us as Dani and I have been working with a team at Nexer who are helping a housing association to respond quickly to the cost-of-living crisis and support their tenants. We were keen to bring back learnings from the conference to feed into our thinking, as our focus is now sharing knowledge with organisations responding to the cost-of-living crisis across the housing sector. This will strengthen our collective understanding and hopefully, we can respond better and faster as situations develop.
The key example from Citizens Advice was a phone line to get food vouchers for people during Covid that has now scaled to be nationwide. This was quickly spun up without much research, and they improved it as they went along. It now has a much wider remit, offering advice and onward journeys after the person has received their food vouchers. Again, their experience centred on launching services and improving them over time. They also touched on the effect of uncertainty on our organisations and the systems around us.
For the workshop, groups came up with principles they thought necessary for designing in such environments. Our group came up with:
Being transparent and honest about what is known and unknown. Move to address unknowns as soon as possible.
Being creative and trying new things, prototype and testing. Permission to try new things and fail.
Team wellbeing, enabling a safe space, allowing people to talk about how they're feeling, and giving people space to decompress.
Problem solving and adapting. If you can't run in person sessions is there another way you can engage your users for example?
As well as our work with the housing sector, these principles also felt really relevant to work we've done with the charity Mind, which involves designing services for people in difficult situations, and sometimes in crisis. 

Designing at speed may mean spinning things up without the depth of research we ideally aim for. However, we can draw on our experiences in adjacent fields to start us in the right direction when working towards building sensitive and clear services.
Amy's four key takeaways: 
Doing something in a time of crisis is more helpful than doing nothing - even if you don't have enough research, creating a service to help people is key. Then improve on it.
Having design systems, content guides, templates etc. unlocks a team to focus on solving problems for users quickly.
When things are unknown it's best to just admit it, in an organisation this should come from the top down. 
Taking care of you and your team's mental wellbeing is key, working at speed with unknowns is very stressful!
Our favourite case studies from the conference
Dani's favourite
Creating meaningful, sustainable dementia service solutions: an Irish case study by Linzi Ryan, Maynooth University
This was a personal one for me. Over the last few years, I have watched and tried to support my Mum as her own mother has become more dependent on her since her dementia diagnosis.
This case study looked at a project exploring the improvement of quality of life for those living with dementia in Ireland. The focus of the case study was their research process and how it had led to the creation of new services. These services focussed on carers rather than the people with dementia, who in turn can support their loved one. As a result helping them to remain in their own home for longer. 
Their research identified that carers often reach out at the point of desperation and that many dementia services available were no longer appropriate as the situation was by that point too difficult to resolve without hospitalisation or a care facility. 
One of the proposed new services helped with this by creating a regional point of contact who would proactively check in with carers rather than waiting for that crisis call. The other service offered weekend respite care to those with dementia with the aim of giving carers time to themselves and to reconnect with their families. Both of these services were designed to support the better mental health and wellbeing of the carer throughout their journey – rather than waiting until they could no longer cope with the situation.
Understanding the impact being a carer had on my Mum as she struggled to find a good outcome for my grandma, their solutions and their focus on services for the carer felt so valuable. Linzi commented that this work may seem 'tame' compared to what is available in the UK but I thought they were sensitive and genuinely impactful ideas.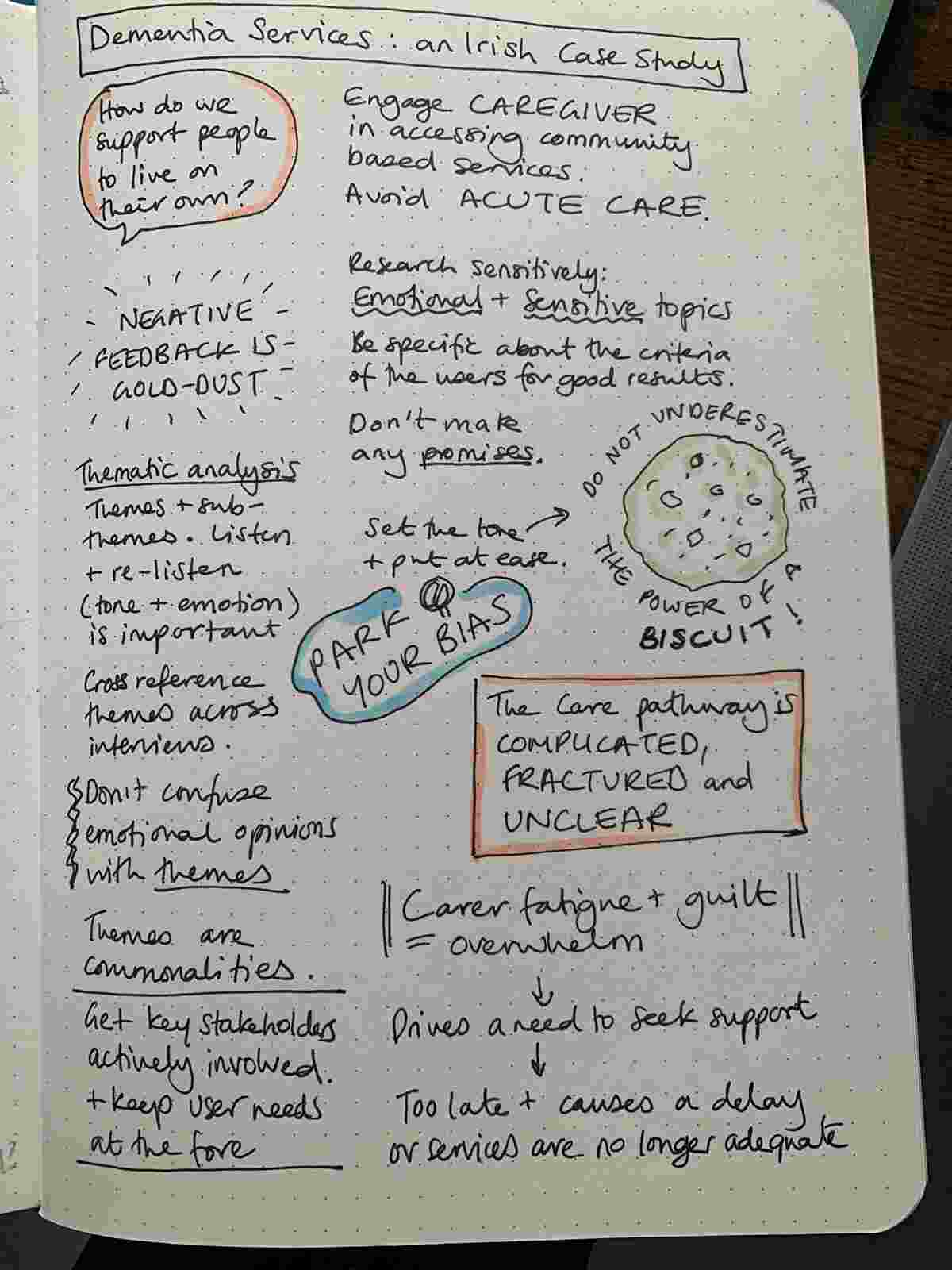 Amy's favourite
Design as a catalyst for generating impact in cities by Ruben Ocampo, Conic Group and Stephanie Wade, Ascendant 
In the civic design case study, Ruben and Stephanie shared a recent project exploring ways to improve mobility for low-income residents in Medellín neighbourhoods, Colombia. the case study showed how multiple long-term and joined-up design interventions were needed to tackle this problem.
There were some excellent examples of how the team had overcome challenges. A notable example was the local government buying out a private bus firm in order to fully realise a joined-up transport system across the city, understanding that any gaps in the 'one-ticket' system would mean failure.
Ruben and Stephanie also showed the long-term nature of the approach, sharing how a vision to create a cable car for the city was realised across several different mayoral appointments over many years. Other talks also touched on the same point that an individual person or team may not see the impact or get the credit for their work in their term of service, but that putting ego aside and having a long-term view can have a positive and lasting impact on citizens and service users.
Their success demonstrated how the right design approach is vital to creating meaningful change across a city. Ruben and Stephanie's tips for success were:
Small, early wins to create confidence in the design approach
Leadership buy-in and involvement from the start
A safe space for creativity
Clear metrics on current issues
Designing for longevity
Summary
A final takeaway for both of us after the conference was the positivity of the speakers and the passionate conversations during the breaks. At a time when concern over living conditions is at a high, being in a room of people that really care about making things better in an inclusive and meaningful way was both heartening and energising. It allowed us to strengthen our connections with friends from other organisations and reaffirmed our belief that sharing knowledge, successes and challenges between us will mean better outcomes for the people who use our services.
Bring on SDinGov 2023, but in the meantime, let's get to work…